Bare Paw Rah Rah Rah
by Syd
Copyright© 2018 by Syd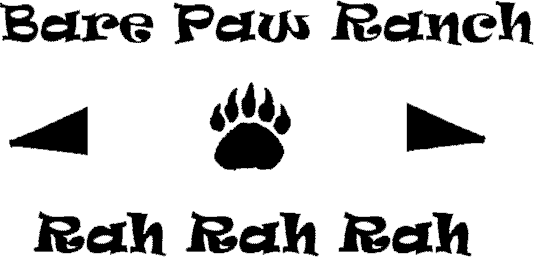 Cast of Characters in Bare Paw Ranch
From Book I
Ted ... Main Character
DE ... Wife of Ted, one-third owner of Bare Paw
KC ... Sister of DE, one-third owner of Bare Paw
Kim ... Sister of Ted
Joe ... Deceased Uncle to DE and KC
Kelly ... Common Law Wife of Joe and lawyer for Joe's estate, one-third owner of Bare Paw Ranch
Jack ... Manager of Bare Paw Ranch
Stacy ... Co-manager of Bare Paw Ranch and Jack's wife.
Ana ... One of the two Spanish sisters that cook and maintain the Lodge
Eva ... Ana's sister
Dave ... Owner of the ranch just South of Bare Paw and summer employ of Bare Paw
Linda ... Dave's wife and also employ of Bare Paw
Ben Diamond ... Owner of the ranch just south of Dave's and entered into a joint venture where he would help Bare Paw during the summer and then Bare Paw would help him with his guide and outfitter service in the Fall
Walt ... Employ of Ben's
Sam ... Employ of Ben's
Mack ... Employ of Ben's and Walt's older brother
Janet ... Employ of Ben's
Chloe ... Employ of Ben's
Lucy ... Employ of Ben's
Abby ... Waitress at AW and new employ of Bare Paw
Nancy ... Abby's friend and new employ of Bare Paw
From book 2
Mary ... Kelly's roommate and friend
Jeri ... Nancy's friend and art student
Max ... Bus Driver
Tom ... Physician red team
Bill ... Repair specialist traveling with the red and blue team
Bob ... Media specialist traveling with the teams and Silvia's husband Silvia ... Physician blue team and Bob's wife
Joan ... Red team coach
Kathy A ... Red team trainer
Joyce ... Red team trainer
Becky ... Red team trainer
Heather ... Blue team coach
Linda A ... Blue team trainer
Signe ... Blue team trainer
Maggie ... Blue team trainer
Red Team Cheerleaders
Rita ... Captain
Jackie
Katy
Kathy B
Debbie
Joi
Kia
Terri
Linda B
Amy
Sally
Beth A
Toni
Judy A
Pam A
Diana
Christy
Jazz
Blue Team Cheerleaders
Kip ... Captain
Kathy C
Diane
Judy B
Linda C
Joy
Suzy
Joyce
Cathy
Melisa
Nina
Polly
Telly
Maz
Kacy
Tammy
Dee
Happy
---
In the following weeks before the Cheerleaders were due to arrive at Bare Paw Ranch there were many things to prepare for. Ben was a source of help we needed. With his experience in the 'Guide and Outfitting business' he was able to help us revamp the lodge for the thirty-six cheerleaders coming to visit and the fourteen staff members they were bringing with them.
We elected Kelly to be the leader of our troop and make the major decisions with her able to call for an executive meeting when needed. Kelly with Ben's help had managed to rent two dozen bunk beds. She rented a roll-off storage container to store the king-size beds and extra furniture in. The eight rooms would thus have three set of bunk beds to allow six ladies to stay in each of the eight rooms. Each room had it's own large bathroom that would make it comfortable for the guests.
Kelly had moved her stuff out of Joe's house and made it available for the four men that were coming with the cheerleaders. Kelly temporarily moved her stuff in Jack and Stacy's house and a separate storage container located there.
The thirty-six cheerleaders would be staying in six of the rooms; the six female trainers would be in one room. The last room would be all female, the physician that travels with the team and the coach and assistant-coach. Mary, Kelly's friend was also staying there as she was the one that made this all happen. The one extra bunk bed was put in the basement as a backup in case it was needed.
Joe's house had three bedrooms with a king-size bed in all of them. The four guys could decide how they wanted to use that house. If they all needed separate beds then one would have to use the hide-a-bed sofa in the living room.
Kelly had been working with Nancy on ideas for the name tags but still didn't have something she was happy with yet. I happened to be walking into the lodge two weeks before the arrival of our guests. With the weather being nicer, it was becoming common to see the staff working naked as they knew they had to keep their bottoms covered when the group was here.
I walked into the kitchen of the lodge and saw Nancy sitting naked at the counter drawing which was a very common site. She usually had one of the other ladies posing for her. Today she had Kim sitting to the back of the counter with her legs spread very wide and just as naked. Nancy was drawing Kim's lady bits. "When I first saw all of you naked, I noticed that tattoo on everyone's bald pussy mounds. Yours is still tattooed and they all now have just smooth mounds. I never would have guessed that yours was real and theirs was temporary. I thought they all looked the same."
"Mine is real, I got it done a couple years back after my parents died in a plane crash. Why I do not know, just something I wanted to do and did. I have the brand registered with the State of South Dakota and want to try and get it registered here in Colorado. I got the brand registered when I was in high school and have it on all my horses. I use to have it on a few cows and some goats also. A brand is a way ranchers have of marking ownership of their animals. I own my horses, but I also own my body, so I decided to put my brand on it."
"What do you call it; I'm familiar with a few brands, like 'Bar-O' and 'the Quarter Circle, even the 'Rocking-W. If I was to guess yours it would be 'Winged Diamond' maybe?"
"Close, I call it 'Flying Diamond'. I have got to do some research in Colorado and see if it is available. Brands can cost a lot of money to get if someone else already has it."
"I can't believe you tattooed your pussy though, I've never seen another girl that had a tattoo on her pussy. Didn't it hurt?"
'I was going to have the tattoo put on my butt cheek so my bikini would hide it. I asked the tattoo artist in Deadwood South Dakota if she could do it. She said no problem; she flipped the front of her shorts down and showed me a star she had tattooed on her pussy mound. I decided I wanted the brand there. As far as hurt, yes it hurt some, but nothing like it would have if I had gotten a real brand there."
I was watching Nancy as Kim told her about the tattoo and she crossed her legs when Kim mentioned the idea of having her pussy mound branded instead of tattooed. Hell I may have crossed my legs also if I thought someone was going to brand me.
All of a sudden, I saw Nancy have a gleam in her eye and get very excited. "That's it; we tattoo the names of the employees on."
"Woe Girl! You can't get everyone to agree to be tattooed."
"No, not real tattoos, but I can do temporary tattoos that are basically make-up and we touch them up every week or so."
"You're serious aren't you?" Kim questioned Nancy.
"Well it's better than anything else we have come up with for name tags on naked people. We have decided we are working with the Cheerleaders topless and then a week later we will be again working naked for the rest of the summer. It will just be your name wrote above your left nipple on your tit, that's not a big deal is it?"
"Maybe not," Kim said with a grin. "I worked in a store one time where we wore name badges and they were always falling off. How difficult is it to do temporary tattoos? What will it cost and what are the pros and cons to it?"
"The initial tattoo will take a little time on each person as I do it, but after it is on, the touchup will be pretty easy. Probably take me thirty minutes to prep the name the first time. The pros are you have your name on your chest, making you one of the staff the con is it will probably leave a place where you won't have a tan all summer. The cost is relatively inexpensive if we buy some of the colorant in bulk like they do for plays."
"Ok, I will be your guinea pig, you put my name on my left boob above my nipple and then what do we do about a logo?" Kim agreed and then asked.
"We could do a 'bear paw', maybe above the name. It could be a stencil so it would be rather quick to do." Nancy answered.
"Well I don't want my right tit to get lonely; maybe the logo needs to go above that nipple." Kim teasingly stated.
"Ok, so you are going to have a tattoo on all your private places then?" Nancy asked back, causing my cock to grow as I listened to their conversation.
Nancy had completely neglected to draw anymore of Kim's pussy as they had their conversation. Kim had moved her fingers to her pussy lips and was caressing them as she chatted with Nancy. Nancy had dropped her pencil and then moving her right hand to own pussy, while carrying on the conversation with Kim. I was stroking my cock standing there eavesdropping on them.
Kim noticed me and asked if Nancy would let me get in front of her. I moved between Kim's legs and thrust my very stiff cock into her juicy pussy as her butt was right out to the edge of the countertop. My swollen saber was buried in her sheath as she leaned forward and pressed her swollen nipples into my chest and her mouth met mine. As my cock filled her cavern we played tonsil hockey with our tongues. Her nipples were digging holes in my chest as my cock plowed her garden. Kim was thrashing away as one orgasm after another ripped through her body. Kim was soon slowing down and gasping for breath as she laid back on the countertop and pulled her pussy from my cock.
Nancy seeing my cock slip from Kim's swamp vacuumed up my projectile and had him messaging the back of her throat. With my cock throbbing, I was able to have Nancy to release it and move onto the counter top spreading her legs very wide so I could explorer her depths with my probe. When my cock was fully buried in her cavern, I felt my explorers moving to search deeper in her treasure. My whole army of soldier were soon drained from my body and making a puddle where Nancy sat.
Later back among the living, Kim got Nancy to put the tattoo on her left tit of her name. Nancy also designed a 'Bear Paw' for her right tit. Kelly, DE, KC, and Stacy walked in about the time she finished. We all decided we liked the idea and that Nancy would begin working on each of them when she had time. I wonder if Abby, Ana, and Eva, would be as positive with the idea.
The next day Nancy asked me to meet her in the kitchen, about nine AM. It was my turn to get tattooed. She worked on my name first and went pretty quickly. Then she stenciled the 'Bear Paw' on my boob above my nipple. She was getting very fast and had it done in minutes. Of course my cock was noticed a naked girl working on my body and came to life.
Nancy not wanting to miss a chance bent over and kissed the tip of my cock before sucking him into her mouth. He loved the attention and soon was standing tall. Nancy climbed onto my body and managed to get him aligned to her pussy. She wrapped her legs around me and pulled me deep in her pussy. I moved a little around the kitchen with her riding my cock, her arms wrapped around my head and her pointed breasts boring holes in my shoulders. She must have taken a lesson from Kelly, because I could feel her flexing her kegel muscles as she humped up and down on my staff. I thought Nancy was really shy but she is anything but shy when I'm around her anymore.
Her magnificent pussy drained my hose; I was worn out and headed to the house. When I saw DE, I saw that Nancy had tattooed her name above the left nipple and the 'Bear Paw' above the right nipple. DE also was sporting a 'Bear Paw' on her bare mound. This caused my cock to rise and take notice. God I love 'Bear Paw' pussy.
Next morning I saw Kelly at the breakfast table, I saw she had the logo on her breast like the other ladies did. She was sitting in a chair so I couldn't see if she had the logo on her naked mound also. About half an hour later Nancy, Abby and a new redheaded girl I didn't know walked into the kitchen. I noticed all three of them had the tattoos on their breasts and also their naked mounds. As they walked up before Nancy introduced Jeri I read her name on her medium boob with freckles.
"This is Jeri, she is an artist like myself and I talked Kelly into letting her come help me."
"Hi Jeri, I'm glad to meet you," I said before I continued with, "all of you."
I got a blush from a redhead with redskin and freckles.
"She wasn't too sure she wanted to become a nudist but I begged her and now I think she is enjoying herself. I needed someone to put my name on me, I tried to do it in the mirror and give up." Nancy stated.
Kelly stood up and I noticed she had the same tattoo on her naked pussy mound that these girls had. Stacy came in a little later and she too was wearing the adornment on her delectable pussy.
Somewhere in the week that followed, it was decided that if all the ladies were wearing a 'Bear Paw' on their naked mounds that the guys should wear one on each butt cheek. I tried to veto it, but we had fourteen women remind us guys what was good for us.
Kim kind of really pushed it when she agreed to have a "Bare Paw' on each of her butt cheeks because she didn't want one on her tattooed mound. Kelly thought it would be cute if she had a tiny logo put in the middle of the diamond that was on her mound. As you can see there was craziness leading up to the cheerleaders arriving at the ranch.
When the cheerleaders arrived in their large tour bus, all the female help was wearing their bikini bottoms and the guys wore shorts. Our names were all clear above out left nipples. We met the thirty-six cheerleaders who range in height from just under five feet to the tallest being about six feet. They were all in their early twenties or less. The staff at 'Bare Paw' was prepared for the guests and was soon showing them all to their rooms and answering questions.
The six trainers were all females in their early thirties; they were all blonde and probably about five feet eight or so. Basically we had cheerleaders and trainers from two teams; we had two physicians, one male and one female. We thought we were going to have a coach and an assistant coach, but we had the coach from each team. The other people traveling on the bus, was the male driver and the male media specialist. The last person was a male equipment repair specialist, he basic was in charge of fixing anything that broke or was lost. He either fixed it or found someone to fix it.
The Lodge is unique in that there are four rooms on the east side and the other four rooms are on the west side. It was decided that the two teams would be called team blue and the other team red. Red would have the west rooms and Blue would have the east rooms. Three west rooms would be shared by the red cheerleaders; the remaining room would have the coach, and the three team trainers.
Blue would have the east side with three rooms having the eighteen blue cheerleaders. The other room would have the coach and the trainers for the blue team. Mary, Kelly's friend who was responsible for all off this, was on the bus but would be staying at Jack's house as Kelly's roommate.
The driver (Max), male physician (Tom), repair specialist (Bill), and the media specialist (Bob) would share Joe's house. Bob would have the master bedroom and share it with his wife Sylvia that was the red team's physician. Bill being the youngest volunteered to sleep on the hide-a-bed in the living room.
After everyone had been shown to their rooms and their luggage delivered to them everyone met back by the pool. Kelly addressed the group and explained the way the ranch worked. "Tomorrow we will ride to Ben's ranch and bring back one hundred pairs of cattle to the corrals by Jack's house. The next day we are going to brand and doctor the calves. We will also treat any cows we see that show signs of needing attention. If any of you have ranch experience and can rope please let me know. You will notice that the staff all have boots on and we are all wearing bikini bottoms or shorts. The staff has agreed to wear this wardrobe while you are here. You will notice that the staff has the ranch logo on their right upper chest. On their left side is their name tag. The staff is dressed in the minimum clothes that are allowed while working the ranch for the next four weeks."
"The minimum clothing allowed at any time around the ranch during this next four weeks is the bottoms or shorts. We usually work in just boots, and the common wardrobe around the Lodge is a smile. If down the road any of you wish to return and visit the ranch at that time you are more than welcome." Kelly stated and grinned.
The guests were all wearing shorts and t-shirts as the staff stood before them with the ladies bare tits showing and the guy's bare chests. My problem was thinking about those bald pussies that were wearing that damn 'Bear Paw' logo. Then I got to wondering which girls had them. I knew Kelly, DE, KC, Abby, Nancy and the new girl, Jeri had the logo down there also and I figured Kim didn't as she already had a real tattoo down there of her own.
Kelly finished by asking if there were any questions. Rita held her hand up like she was in school. Kelly acknowledged her, "Yes, Rita I think it is?"
"Couple questions, do we dress like you, the staff and do we need to have our names put on our chests like all of you. I do not really want to have my name tattooed there." Rita inquired.
"You may dress anyway you want, we might not let you ride one of our horses if you decide to wear six inch heels rather than boots." Kelly answered getting a laugh from everyone. "As far as the name tags go, No, we do not think you should have to wear them. It would probably make the next four weeks easier, but it's not going to happen. Just so you know, these tattoos aren't permanent, Nancy will be touching them up as they fade, the only drawback is we may have a funny untanned area under them when the summer is over."
"Is there any other questions?" Kelly's next asked.
Maggie held up her hand, I guess Rita started this form of asking and so she followed her example. Kelly nodded her head recognizing Maggie. "You all work all summer completely naked, even ride horses that way?"
"Yes, except we do wear boots when we ride for work, Stacy and I sometimes ride completely naked up to the lake and skinny dip. We both have our own horse here, and having spent many hours working with them, and feel comfortable riding without a saddle or bridal on the horse and totally naked.
"I was raised on a ranch and still have my own horse, can I bring him to the ranch and would you let me ride sometime with you and Stacy?" Maggie, who was blond about five ten and very cute asked.
"If you want to return sometime and we have the time, we would be happy to ride with you." Said Stacy interjectionally.
I thought of Kelly and Stacy riding on their horses and those two silky smooth and so delicately beautiful pussies being against the backbone with hair of the horse. My cock was trying to imitate Mt. Vesuvius and erupt; the scenery around here was killing me. Now that all my favorite candy was covered up, I was becoming hornier by the minute.
There didn't seem to be any further questions, so Kelly ended her informational with, "We will see you all tomorrow morning for breakfast and wear what you are going to. Bring a windbreaker, we can tie it to the back of the saddle and sun screen. The rest of today feel free to relax around the pool and take short hikes if you like. On the trail ride we will have a wagon travel with us. There will snacks available all day long and lunch will be served on the drive.
Ben and Jack had found a ranch that was in trouble down south and had purchased the cows and calves adding them to Ben's two hundred head of pairs and our one-fifty pairs making this a working ranch now. There was now going to be thirteen hundred fifty calves to brand, de-horn, and neuter.
I kind of wondered if any of the guests would go topless tomorrow. I need to quit having these thoughts. I left with DE and KC to go to our house. DE turned into my arms and kissed me as we walked to the truck out of sight of the guests. KC smothered my back kissing the back of my neck and pressing those tits of hers in my back. The cock that earlier was having a problem was now a full-fledged erection. DE didn't help any when she sat in the passenger seat slipping her bottoms off and tossing them in the back floorboard of the truck. KC seeing her doing that slipped her own off in the backseat and spread her legs wide. They both played with those bald pussies with that fucking logo on them that were driving me crazy.
I couldn't drive fast enough to the house. I stepped from the truck stepping out of my shorts and walking to DE's door opening it. DE launched herself into my arms with her long legs wrapping around me and my heat-seeking missile finding her hot target and becoming fully embedded in her enclosure. 'Houston we have contact and the first stage just erupted. With the mass eruption in her pussy I managed to maintain a suitable toy for her to ride into the house. KC hadn't yet left the truck so I'm sure she was taking things into her own hands so to speak.
There is more of this story...
The source of this story is Storiesonline