A Rose Blooms on a Bottom
by LughIldanach
Copyright© 2014 by LughIldanach
This story takes place before "I left my heart, and her vibrator, in San Francisco." As with that story, this contains a fair bit of truth.
There's no M-M contact in this story, but there is cum play, and references to sloppy seconds. If that's a turnoff to you, let's part as friends.
Life was good. I was successful in my profession, had exercised enough choice of parents to be an independently wealthy heir, and had a fine girlfriend. My relationship with Vanessa was growing. We had discovered that while emotional loyalty was extremely important to us, we didn't insist on sexual monogamy. Indeed, we were learning how we could enjoy sexual encounters both together, and with others but shared with our partner. I had inherited a large house in the Georgetown section of DC, overlooking the Potomac River, along with the funds that I was "comfortable" at the least.
Vanessa's office was in the Virginia suburbs of DC, in the Falls Church area. I had one office further out, at Tyson's Corner, but my real office was at home. We had brunch one weekday morning, and I didn't rush back to either office.
When you meet Vanessa, you get an immediate sense of attractiveness, glowing health, and some sort of athleticism. When you talk with her, you get a sense both of intellectual power but sometimes of shyness, quite likely not comfortable with her allure. She had once thought of being a gymnast, but matured into the wrong body type. She also decided not to be a cheerleader, but did enjoy studying modern and classical dance as part of her health. She had once aimed at amateur competition bodybuilding, but now tuned her body for more of a fitness model look.
Rather than having an obviously ripped appearance, her skin was taut but smooth, softly covering the muscles. She was particular to describe her weight at precisely 118, and her height at 5'6" 1/2. Given her perfect posture, her short waist and long legs, and preference for very high heels, she seemed considerably taller. Her long curly hair probably added to her height. It was naturally a warm auburn, but she occasionally tweaked it into a more reddish tint.
I'm Victor, and I'm unquestionably redheaded and red-bearded. I have the rarest genetic type, with red hair and blue eyes. I'm 6'4" and in solid condition.
Brunch and reflection
At brunch with Vanessa, I shared the sort of images that excited us both. Her office was in the Skyline complex, a nice mixed-use office park nearby, with shops, theaters, and restaurants, but mostly offices. The majority of the offices are military, with lots of civil servants and contractors.
I don't smoke, but, on nice days, I would sit in some of the mini-parks, enjoying the weather and people watching. One woman was especially interesting to watch. "It's been from a distance, but I see one woman who probably goes out for smoke breaks. Her skirts are damn short to start with, but she crosses her legs so it exposes her ass.
Medium height, blonde, and long-legged, her skirts were on the short side of fashionable miniskirts. At first, her leg crossing was up to those of Fox News "newsbabes" in the "leg chair." Laurie Dhue was the first I had seen who displayed ass cheeks. This woman, however, went further -- I could see her ass in full, complete to a rose tattoo. This woman looked a lot like Laurie, although her hair was nicely short, something like Pamela Anderson's new look. It was definitely blonde, but not a dramatic gold. I wondered, in fact, if she deliberately made it look as if it was bleached.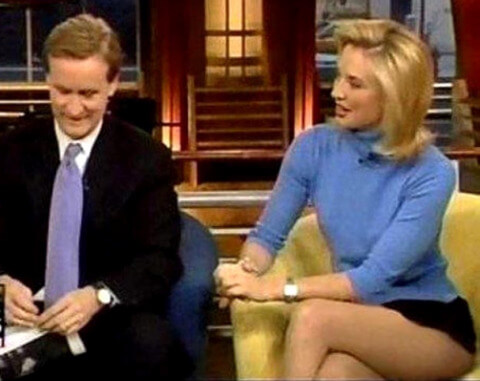 You think she's sending a message? I can see she's pretty dramatic with her smoking. Flirting, or even a working girl?"
"Nobody dresses and sits like that, day after day, in a public place, unless they want to send a message. Go past a time or two, smiling, and if she smiles back, improvise. Yes, I know that you can't make assumptions based on dress alone, but you wouldn't do anything that wasn't clearly consensual.
"Be back in a minute and we can talk some more." Vanessa went off to the ladies' room, and, when she came back, handed me a small remote control. I realized it was for her radio-controlled ben-wa balls.
Still in the restaurant, Vanessa wasn't going to look very wild. We were in a corner booth, though, and she could be discreet in the corner. When she gestured at me, I looked down. When she sat down, she hiked her professional-length skirt above her stocking tops, and had taken off her panties. "What would you like to do to her?
"You know, if I found her like that at a party, and she gave me an approving look, I might not even talk. I might even just drop to my knees -- convenient, not submissive -- and start kissing and fondling from her calf to her ass." I turned on the ben-wa vibrator, and Vanessa gave a low moan. "You know that I get really turned on by making a woman wild, before I take my pleasure. If her legs were bare, I'd also be licking, although that's kind of silly over stockings." I paused, and Vanessa hummed for me to continue.
"With everyone still dressed, I might just put my forearm between her legs so she can hump on it through pantyhose or panties. Playing it by ear at that point, I might pull her onto my leg for humping and nasty kissing, or fondle her mound. Either way, I'd want her to..." I locked eyes with Vanessa..."Cum. Cum for me, love." Vanessa shuddered and groaned quietly, obviously not wanting to produce a scene.
I was very hard, but I couldn't do much about it without making a mess. When she calmed down, she said, "Go for it. I wish there were time and place for me to suck you off, but we'll do that later." Her eyes widened. "Think she's wild enough that she'd play with me?"
"I can always find out." We'd have some surprises there.
After brunch
I worked for a while, doing things I needed to do but also building up a pleasant tension. A little before 1 PM, I got ready, putting on a somewhat academic tweed sport jacket over an oxford shirt and jeans, a look that I liked.
In the case at hand, it took an effort to tear my eyes away from her legs and ass, and note that she had a nice face and a rather large bust, masked by her sweater. As I walked closer, though, I could see the sweater looked incredibly soft and clinging. It would be delightful in my hand.
I did stroll past her at first, sensing her mood, and heading into the mall. It didn't take long for me to return with seasonal coffees. Smiling at her as she winked at me, I observed, "Freedom's about being able to drink, or not to drink, pumpkin spice latte. I bought both kinds."
"I also stopped at the Indian shop." Opening the box in her direction, I pointed out, "About half of these are flavored and scented with rose water. I figured that your rose might like company." I turned to face her flower. "Hi, Miss Rose. I'm Victor."
That got a laugh. "It's easy enough to make wisecracks about my rose, but harder to appreciate it with words. You have promise, good sir." She paused, pursed her lips, and patted her butt. "Wisecracks no, but I do have a pretty nice crack as well. Can you handle it?"
She clearly invited going for broke. "Well, yes, I could handle it, but it might even be more fun if I used my tongue."
"Nice rose." She nodded and smiled.
"Why, thanks! I wondered when some guy would have the balls to mention it. Many men look. Some women look shocked, while others seem interested Men are my first choice, but I don't rule out the girls." At that point, she recrossed her legs, and I saw that she was wearing sheer-to-the-waist pantyhose. I couldn't yet tell if they were crotchless. If she wore panties, they were a thong.
"Roses do smell nice as well as look nice. Perhaps we might enjoy a sniff?"
"I think both of us would enjoy that. I don't have long, but I do have an apartment in the complex. Want to go see it? No, I don't fuck on a quickie, but I want both of us to get off." She stopped for a moment, examining my face. "Good. A lot of professional men freak out at that."
She stood, pulling down her skirt only the little bit it permitted. I followed her to one of the high-rise elevators.
"If you haven't guessed, my name is really Rose. You saw one of my trademarks."
"One of? That sounds promising." She giggled.
At her place, she gestured me to a leather couch, which looked and felt incredibly soft. She flipped up her skirt, showing me that she wore crotchless off-white pantyhose and a thong. "Let me do a mini-strip and change. The pantyhose aren't the best thing for quick play. Do you prefer bare legs or thigh-highs? Think nasty, though. As long as we respect one another physically, I have damn few limits."
"Bare legs. Maybe stockings later. If you're in a slutty mood, fishnets look wild although they don't feel great."
"I can deal with that. I will do a fine touch that works in the apartment." She slipped into six-inch heels, then sat down in a comfortable armchair and draped her legs over the arms. "This is a good starting place."
I slipped off my pants and underwear, sensing that she liked being half-dressed. Her legs and ass had so entranced me that only now did I realize that she had quite large boobs. Bending, I raised her foot to my lips and applied lips and tongue to her ankle, and then moved up her leg, stroking, kissing, licking. As I passed her knees, I saw another rose, just above where her pubic hair would have ended -- if she had any. She began to wiggle as I paid attention to her soft inner thighs. While I blew hot breath toward her mound, I did so only to tease.
Slipping an arm around her, I turned her to her side, exposing the butt rose. Pressing my face against it, I inhaled. "Ah, the scent of a Rose." Actually, there was both a womanly musk, but also an aroma of roses -- she must use rosewater or a scented lotion. As I kissed the rose on the side of her ass, my hands squeezed and then spread the cheeks of her buttocks. Very nice buttocks they were, without surplus fat but soft and springy. She moaned a little and breathed harder.
I had gathered that she liked to push the envelope, so I turned her further, took a deep breath and smelled nothing except delightful scents, and applied my tongue to her ass cheeks, and then up and down her crack. That got a pleased purr, but nothing like what happened when I reached one hand around her, and positioned my hand by feeling her outer lips. As I pressed my tongue to her lovely asshole, my finger simultaneously rubbed her clit. That got a happy cry.
Thrusting with my tongue while thrumming her clit, her body was soon shaking. I was rock hard, but I was having a good enough time that penetration wasn't an urgent need. Soon, I felt her jerk into what had to be an orgasm. At that point, I let my fingers slide from her clit to into her moist interior, probing, and finding her G-spot. That got a stifled scream. Her hand grabbed for mine and pulled it to her, voicelessly saying that she wanted more fingers inside. From her earlier words and her body language, I knew she liked things rough and outrageous, but not brutal. Soon, she had three of my fingers pumping in her while my mouth teased her bottom.
After she convulsed cheerfully a few times, she flopped backwards, smiling at me. "Few men can wear me out. You just did it." Rose pulled me to her face for some sloppy open-mouthed kisses. Her mouth was spicy. I hadn't yet cum, but we were both temporarily exhausted.
"Victor, I'm awfully tempted to break my no fucking rule, but let's find other pleasures for now. I hope we'll do this again, and you'd better believe that you fuck my pussy and ass. Within those limits, what do you want to do now? The kinkier the better."
"Wow. Maybe a little diversion into shoe fetish and then maybe some shared oral, and then masturbate at each other? Doing that is so delightfully nasty."
"I like it." She reached down and removed one of her stilettoes, and began to suck on the heel, raising her other foot so I could lick and suck her other heel. With that, we both were posing for mutual pleasure. We both were gently stimulating ourselves with our hands. "Yeah, masturbating while exciting each other is a trip."
"My lips are getting dry." I leaned back. Her intuition was right on. She stood, put her shoes back on, and dropped her microskirt into place.
She gestured me to the couch. I felt the soft leather as I luxuriously stretched out, both of us still naughtily dressed from the waist up.
Without words, Rose knew what was right for me at that moment. She knelt over my face and pushed downwards until I could tongue her quim. "I'm really juicy, Victor. I might squirt, but just a little -- but I don't want to mess you up."
"Just be sure you give me a tiny warning and then press against my mouth. Your squirts ought to be delicious."
There is more of this story...
The source of this story is Storiesonline