Absinthe Makes the Heart Grow Fonder
by Stultus
Caution: This Romantic Sex Story contains strong sexual content, including Ma/Fa, Drunk/Drugged, Magic, Oral Sex, Anal Sex, Cream Pie, Slow, .
Desc: Romantic Sex Story: It was intended to be just a simple night of passion between him and his devoted mistress, the Green Fairy… La Fée Verte, but will his usual l'heure verte "Green Hour" dreams of love now become real instead?
Thanks to my usual cast and crew of Editors and Advance Readers, most of whom prefer to pretend that they don't know me and wisely wish to take no responsibility for any part of my addled writings...
---
Il n'est rien de réel que le rêve et l'amour - Nothing is real but dreams and love
(from Le Coeur innombrable, IV, Chanson du temps opportun by Anna de Noailles)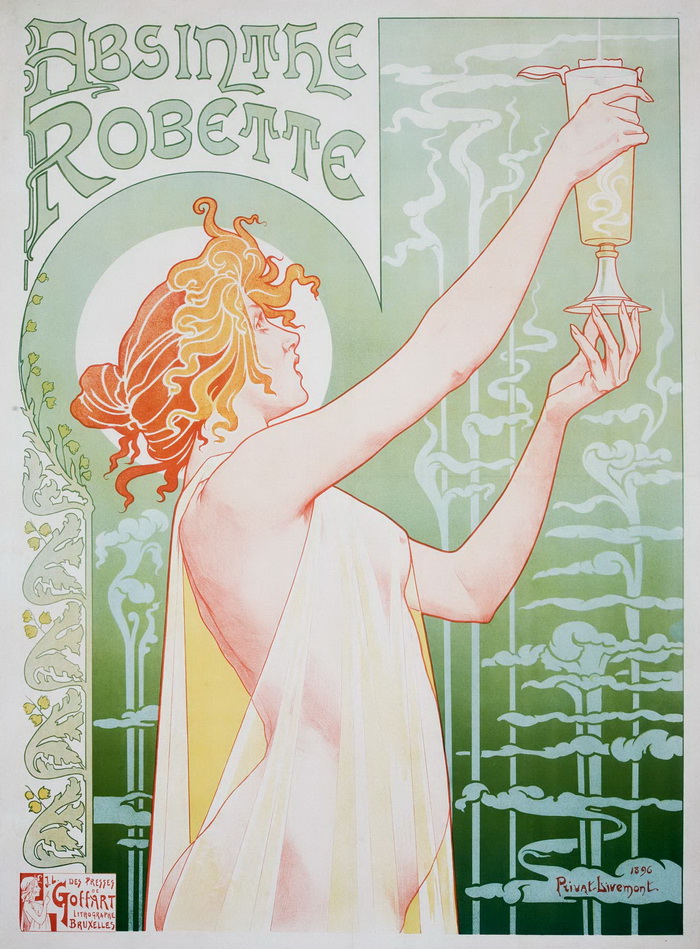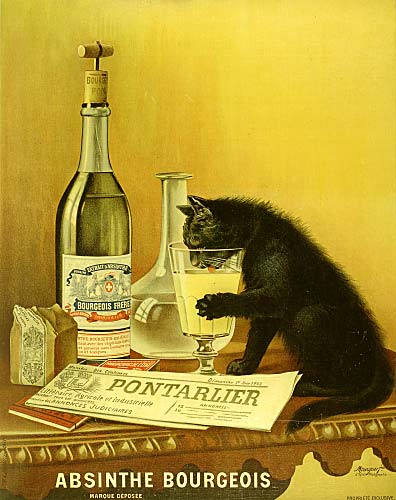 ---
"Let me be mad, mad with the madness of Absinthe, the wildest, most luxurious madness in the world." —Marie Corelli
"The first stage is like ordinary drinking, the second when you begin to see monstrous and cruel things, but if you can persevere you will enter in upon the third stage where you see things that you want to see, wonderful curious things." —Oscar Wilde
---
She was my one true mistress and ever faithful lover, my Green Lady and guardian of my dreams and now that I was back home again I yearned 0nce more for her tender embraces, but I resolved myself to wait but for yet awhile longer, to stoke the fires of anticipation just a bit further. As in most passionate romances, it is often good to tease one's lover, to dangle her remotely, but tenderly just out of arms reach. To entice her but yet remain seemingly unmoved by her charms so that the flames of passion might be further stoked, and the ultimate embrace of surrender is ever that much sweeter still.
My other suitor for my immediate attention, my long neglected tomcat, Admiral "Bull" Halsey, had pleas of his own, quite equally vociferous and forceful! My downstairs neighbor had been feeding him while I was gone, but that never substituted for the sort of regular proper attention that my rather needy feline roommate tended to require at regular and frequent intervals. Bull wasn't much of a companion, truth be told, but he was reasonably affectionate, fairly decorative (if not too bright) and other than an affection for regular feedings and frequent bestowments of cat-treats, he wasn't too terribly high maintenance ... which is more than I could say about either my ex-wife or my last two serious girlfriends. The alternatives being much the worse, Bull made for an adequate life-companion – and he held little if any annoyance for my other vices, such as my regular companionship with my other lover, La Fée Verte, the Green Fairy.
I was home now after being away for two weeks, as usual. I have a good petroleum engineering job that's absurdly high paying and utterly secure employment, both pleasant rarities in this shitty economy, but the duties require me to be 'on-site' at the production site in North Dakota, far from my home down here in the South. Working in teams, our group works two weeks, twelve hour shifts every day, and then has two weeks off back at home. Most of the drilling crew is from down here as well and we even have our own corporate 707 jet to shuttle us back and forth every other Friday. No frequent flier miles, but letting the company handle all of the travel does save a lot of hassle. It's a perfect schedule for getting a lot done at the drilling site without distractions or much corporate over-management and then being able to enjoy a prolonged rest and recuperation period at home, allowing me time to do other things ... including a great deal of quality time spent with my green lady, La Fée Verte.
More than my job or any past relationship, my la heure vertes, my so-called 'green hours' spent with the fairy have increasingly become my primary pleasure and enjoyment of life. My income would allow me any other sort of diversion and recreation that I could wish, but just being home and relaxing is invariably pleasure enough. As for inspiration, my green dream lover provides that too. In my weeks off here at home I can indulge my novice skills as a writer, and when properly inspired, I've been able to type the night away, working on a half done novel or just creating a short story for amusement, to be posted anonymously at an internet story site. For me, it has been my green muse that inspires and gently both provokes and encourages me, and when I am apart from her for those long weeks absent from her companionship the pain is at least as real as any romantic pains I've suffered in the past.
As in most romances, absence doth indeed make the heart grow fonder.
Now already, here in the quiet still of the growing dusk of the late afternoon, she was already beckoning plaintively to me, calling me to grasp her and hold her to my bosom as the lover that she is. It is early still for my usual green hour with her to begin, but I decided that I could not refuse her any longer. She is my mistress and I cannot rebuff her entreatments any further. She is my joy and my comfort, but a demanding and stern one. My lovely Green Fairy soothes and reassures my fears, and placates my other more dangerous and perilous desires. Her cost is small, and one that I am more than willing to pay.
I've always enjoyed alcohol and had a healthy taste for it, and I'd like to think that I'd taken more from my liquid pleasures than they've exacted from me. I've always enjoyed wine, often taking several glasses of it a night, but occasionally imbibing more. My last girlfriend went so far as to consider me an functional alcoholic, but I reject that notion. True, if I were to take any of the AA 'Are you an alcoholic?" tests, I'd probably score pretty highly. But far from ruining my life, my thirst (while considerable) remains within the bounds that I have set for it. I cannot enjoy my hours with my green lady during my sober weeks at work, but that just means that I can enjoy her company all the better during my long days of rest at home.
While it is true that sometimes I feel that I need my la heure verte on most days, my lovely wonderful Green Fairy has never caused me the pain or heartbreak that my more 'real' former lovers and companions have, and given the choice I would eagerly prefer my gentle green lover, La Fée Verte instead. While alone at night at the drilling site, far from home and comfort, I sometimes think of old lovers, of our better days together and the genuine warmth that only a human companion could offer, but those visions tend to be fleeting and often surreal. Contrasting the merits of these all too tangible ghosts, it's the reassurance of my Green Fairy that beckons to me most in these long lonely twilight hours when every whim could now be satisfied. Some nights, it is the forlorn calling of potential human companionship that beckons the strongest, but not this evening.
Besides, my love luck with women of the warmer flesh is less than satisfactory and even when I go out for the evening to some club or restaurant is rare that I'll even make eye contact, let alone speak with a woman. Sometimes my muse La Fée Verte will offer me tantalizing visions of herself, an ideal dream-woman that no flesh and blood female could hope to match or compete with. I think it is her that I see in my near sleep visions when I am tired and lonely and very far from home.
She once again calls to me and I can refuse her tender embraces no longer. I'd opened the china cabinet in my green room, my study and writing room and held the antique glass bottle in my hand. The glass Absinthe decanter was a rare one, an 1890's era Daum hand-engraved cameo glass with silver gilt bottle that had a provenance originating from the hands of the famous French Art Nouveau artist Henri Toulouse Lautrec, a gift from him to a friend complete with a short hand-written note. I'd bought it at auction at an absurd price, but I could afford it easily. The thought that I possessed a decanter that had poured service to this great master, and many other impressionistic and post-impressionistic artists and also famous writers of the Gilded Age and the Lost Generation was an irresistible one. The bottle was fragile and utterly irreplaceable and thusly I only used it for serving my finest liqueur and on special occasions, like my first green hour back home. Decanted into this was a very expensive Czech-made Absinthe that bent, if not quite broke, the current EU alcohol distillation rules. A fine beverage that nearly duplicated the famous original French Pernod recipe, using distilled wine rather than grain alcohol for its base. There were many cheaper but similar liqueurs on the market, but this one was my favorite and undoubtedly the closest 'modern' version of the classic beverage.
I own a few rare bottles of pre-1915 Absinthe, bottled before the final European ban of 1915, but those were hugely expensive to obtain as well and will be saved for some future happy occasion, if not for posterity.
.... There is more of this story ...
The source of this story is Storiesonline