Knockers
by DG Hear
Caution: This Romantic Sex Story contains strong sexual content, including Consensual, Cheating, .
Desc: Romantic Sex Story: Received a door knocker as a gag gift. I kept it as a conversation piece. I wonder what my dates will think about it.
Chapter 1
When I hear the word knockers I have to admit seeing or thinking about a good looking woman with a nice set of jugs. Then there was the movie that came out called Tommy Knockers.
An old girlfriend had given me a door knocker. You know, the kind that attaches to your front door and you grab it and knock on the door with it. Here's a picture of the one she gave me and I put it on my apartment door.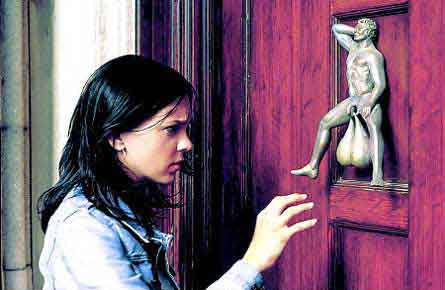 We have since broken up but I kept the door knocker. A few of my dates didn't care for it and others asked if it was made from a self-image. Being the kind of guy I am, I did let them see the real thing. I've always been kind of a joker and told them that I went by the rule, "I'll show you mine, if you show me yours." In this case it usually ended up with a good round of sex.
Just to be official, my balls are about the size of the knockers but not in the proportion of the knockers to the rest of the body. My cock has it beat by a long shot.
I do have to say it's a good break-the-ice conversation piece when I bring a woman to my apartment. If they don't like my knocker then I consider it isn't going to go well. Sometimes I do get surprised, but I do like a woman who is fun to be around.
A little about myself. I'm twenty-seven, I'm six foot tall and weigh in at about two hundred pounds. I'm a contactor and run a lot of heavy-duty equipment for the State. My name is Neil Wright. I've never dated anyone of late that I would consider being Mrs. Wright.
My problem is I love sex and being with only one woman at this time of my life just wouldn't work. I party a lot on the weekends and have quite a few friends. I guess my biggest problem is my friends' wives. Once I have too much to drink, and smoke a little weed, I get brave and horny.
I've been to bed with a number of my friends' wives. Usually I go to one of their houses after the party. We have a couple of more drinks and smoke a little more weed. I usually sleep on their couch and the wife will come out after the husband is drunk and asleep. We will then have some pretty raw sex.
I've been with six of my buddies' wives, and I'm still alive to talk about it. In one sense I'm not proud of it, but in another, I love fucking these married women. I will say that at least two of my friends know I've fucked their wives. In fact they suggested it or at least didn't stop me.
I'll give you an example. After one of the parties Jim and Cindy invited me over. It was Cindy's sister Cheryl that bought me the door knocker. Cheryl wanted to get serious and I just wasn't ready for a commitment. In fact I was hoping someday to have sex with Cindy. She and I were always flirting but after her sister and I broke up I was lucky if she would talk to me.
After a couple of months she cooled down and told me that she was mad at me for breaking up with her sister. I explained to her that her sister wanted marriage and I wasn't ready for that. Cheryl had already moved on and had a new boyfriend.
The party was at their house and after everyone left I offered to help clean up the house. The three of us cleaned up the majority of the mess and Jim got us all a last drink before turning in. He was the drunkest of the three of us. Jim is usually pretty straight laced but gets a little wild after drinking too much.
He loved to show off Cindy. She always wore provocative clothing, low cut blouses and white jeans that looked like they were sprayed on. She had the body but was a tease and Jim knew it. I've often watched Cindy flirt but never anymore than that. She once told me the only reason she flirted was because it turned Jim on.
After cleaning up the house Jim poured the three of us one last drink. After the last drink, before we would be turning in. He turned on the TV to a midnight movie channel, which showed x-rated movies. Cindy got up; she said she was going to change for bed. I watched her hot ass go toward the bedroom.
I couldn't help but say, 'Damn'. Jim saw me looking and just laughed. He was proud of his wife and had good reason to be. She came back in the living room wearing a t-shirt and pajama bottoms. She even looked hot in them. I could see she had removed her bra. Her nipples were putting dents in her t-shirt.
She sat on the couch with Jim; I sat in the recliner as we all finished our drinks and watched the TV. All the lights were off except for the TV, which made a dim light in the room. Jim started to rub Cindy's tits.
I could hear her whisper, "Don't, Jim, Neil can see us."
"He can't see shit, it's dark in here and he's watching the flick." He lowered his hand into her pajama bottoms.
She could see he wasn't listening to her, so she grabbed the blanket and put it over her lap. "Easy Jim, I don't want him to see what you're doing." He had to be fingering her by now. It was easy to see she was enjoying it.
She had her eyes closed and was just enjoying what Jim was doing to her. Jim looked over at me. He wanted me to know what he was doing. I saw him smile at me and his hand was moving a lot under the blanket.
I was getting hard watching them. I was no longer watching the movie. I made a bold move and got off the recliner and sat on the couch next to Cindy. I told Jim I could see the movie better from there.
"What are you doing here?" asked Cindy. Her husband was still finger fucking her pussy.
"He just wanted a better view ... of the movie," replied Jim.
Cindy didn't say anything as I sat there and watched Jim's hand under the blanket. "Mind sharing the blanket?" I asked as I grabbed some of the blanket, pulling most of it off of her lap.
She grabbed some of it back but not before I saw her pumping her pussy against Jim's hand. She looked at me and held the blanket up to her chin. I was surprised at what happened next. Jim got on his knees and under the blanket in front of Cheryl.
"Jim! What are you doing? No, not here, let's go to the bedroom."
Jim didn't answer, he was in another world. He had reached up and pulled Cindy's pajama bottoms off. "Jim! No! Not here," but Jim wasn't listening. I saw him toss her pajama bottoms to the side. I could tell she was embarrassed. She had never done this in front of me before but I also believe the booze made her horny.
In a bold move I grabbed the blanket off of her lap and Jim's head was lapping her blonde pussy. He wasn't planning on stopping. He looked up at me and said, "You better never tell anyone I let you see Cindy like this."
"You have my word Jim. Damn! She's beautiful." I looked down at Jim eating his wife's pussy with the blonde covered mound. Cindy looked at me very embarrassed. It was like she was in heat.
She was now pumping her pussy into Jim's face. I reached over and slid my hand up under her shirt. She looked at me as I lightly squeezed her breasts. Damn! I loved rubbing her tits. Jim hadn't even seen me yet. He was too busy eating her pussy. When he did look up he gave me a surprised look.
I know he was thinking he never said I could touch her. It was a little late now. He stood up and quickly took off his pants and his cock was hard. He pushed it into his wife. It slid right in. He began to pump his cock into his hot wife. I bared her breasts and began sucking on them.
Cindy was moaning and telling Jim how good it felt. "More Jim More! Fuck me baby! Show Neil how good you fuck me and that you're my man."
She was so hot, talking and moaning. I continued rubbing her tits and for the first time I gave her a real kiss. Not one of these friend's type kisses but a passionate one, even using my tongue. When Jim saw it he shot a load into his hot wife. I could see him pushing his cock hard into her as he came.
"No Baby, not yet! I wasn't there yet," said Cindy.
I pulled back and sat up. Her t-shirt fell back over her tits. Jim said, "Sorry Honey, I couldn't hold it any longer."
Cindy got up and grabbed a handful of tissues and shoved them between her legs and said she was going to clean up and then go to bed. "Neil, I would appreciate if you never told anyone what you've seen. Jim and I have never done this before and it probably happened because we had too much to drink."
"Your secret is safe with me, and by the way, you have one beautiful body." I watched her walk away with a smile, and a vision of her beautiful ass.
Jim apologized to me and asked me not to say anything to anyone. It just went too far but in a sense he felt good to know I thought his wife had one fine body. "I hope you enjoyed it because it will probably never happen again." He got up and said he was going to bed.
I sat there on the couch thinking how I got so close to having sex with Cindy. I slipped off my trousers and glanced back at the movie. I had a hard on from what I saw of Cindy. I was going to jack-off when Cindy appeared in the doorway. All she had on was the t-shirt.
She stared at me and then at my cock. My eyes were on her pussy. I couldn't help it as I pulled my hardened cock out of my briefs. She came forward and said, "This never happened, do you understand?"
I said, "Yes," thinking it was about what she said earlier. Instead she came up to me and straddled my cock and let it slip into her very wet pussy. I think she cleaned it up some from her husband coming in her. God, she was so hot inside.
"I never came, will you make me come?" she said to me.
She was riding my cock so hard that her juices, and probably some of her husband's, were running down my cock. I held onto her hips and pumped my hard cock into her.
.... There is more of this story ...
The source of this story is Storiesonline