Faith's Journal - Beach Run
by Mat Twassel
Copyright© 2022 by Mat Twassel
Fiction Story: Faith and Leila go for a run in the rain while Logan stays at the beach house practicing piano and keeping an eye on the kids. Illustrated.
Caution: This Fiction Story contains strong sexual content, including Mult Consensual Fiction Illustrated .
The beach was so beautiful yesterday when we arrived, just in time for sunset. We were tired from the trip, but we all agreed that tomorrow we'd spend all day on the beach.
That night it rained. The rain let up some, but the morning was nothing but gray and wet. "We could go out for a run anyway," I told Logan.
"Sure, I'll watch the little ones," Leila volunteered.
Logan begged off, saying he had to work on his program. He was doing a recital at a little church thirty miles down the road. Pieces he'd played a million times. "You just don't want to get wet," I chided him.
"If you stay you'll be responsible for the sweeties," Leila told him.
"We'll be fine," Logan said.
So Leila and I made our way down to the beach. Total gray. We could see about fifty feet. It wasn't raining. More of a mist. No one around. No one we could see.
"I'm taking my top off," Leila said, even as she pulled the bow, baring her beautiful breasts.
I didn't feel I had a choice. Seems like I'm always following her lead.
Leila set off, running fast. I caught up and managed to stay even with her. We ran and ran. Finally we turned around. I was exhausted. I slowed to a walk. "Come on," Leila urged. "First one back gets to fuck Logan." And off she went. I knew I could never catch her. I tried. I ran as hard as I could. She was just too athletic.
But as we neared the end, she slowed up. She let me pull even. "Come on," she said, "If it's a tie we'll both do him together."
We jogged together, side by side, stride for stride.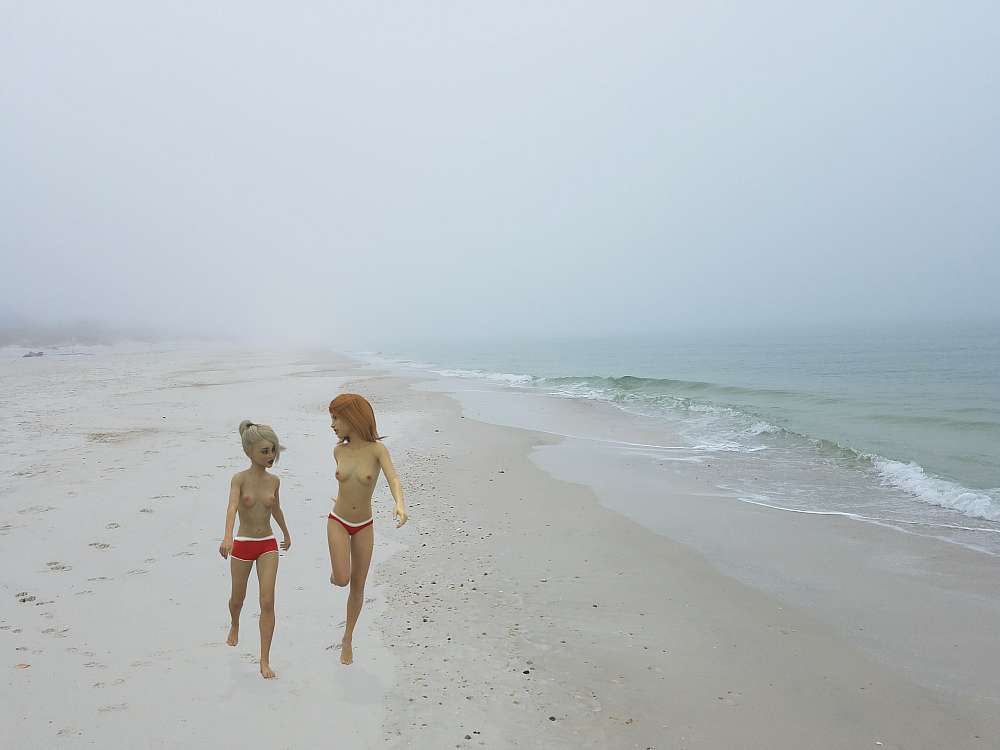 "Isn't this great?" Leila said. "Logan doesn't know what he's missing."
"Yes, great," I said.
Then, in the last twenty yards, I burst ahead. Someone had to watch the kids while the other two fucked.
There is more of this story...
The source of this story is Storiesonline