Rehearsal
by Mat Twassel
Copyright© 2023 by Mat Twassel
Jasmine got a call from Nathan. "So about that erotic film ... You want to do it?"
"I guess so," Jasmine responded.
"Then I suppose we should rehearse or something."
"Or something?" Jasmine said. "What might be the something? Eating potato chips?"
"You like potato chips?" Nathan asked.
"Sometimes, depending..."
"Okay, I'll bring an assortment. BBQ. Uh..."
"It's okay," Jasmine said. "I'm not that crazy about potato chips."
"Good," Nathan said.
"But I will bring a friend."
"Ah, okay. Um, a male friend?"
"Why? You into guys?"
"No. I was just curious."
---
"So, a rehearsal," Jasmine said, once they had gathered at Nathan's apartment. "How will that work exactly? Oh, this is my friend Clare."
Nathan and Clare shook hands.
"So how does this go?" Clare asked.
Jasmine and Clare looked at Nathan.
"Well, I guess we get naked, and then we go at it."
Jasmine and Clare smiled at each other. It was Clare who suggested Nathan sit on the rug, and Jasmine would sit on his cock. She said she'd play it by ear.
Once Nathan's cock was fully inside Jasmine's cunt, Clare knelt next to them. She and Jasmine were soon kissing. Clare caressed Jasmine's breast. Jasmine inserted two fingers in Clare's cunt. Nathan moved his hips. Jasmine traced a finger around her own clitoris.
A few minutes late Jasmine said, "Oh God, I can feel him starting to come." She squeezed her cunt. She could feel Clare starting to come. Before their orgasms were finished, Jasmine came too.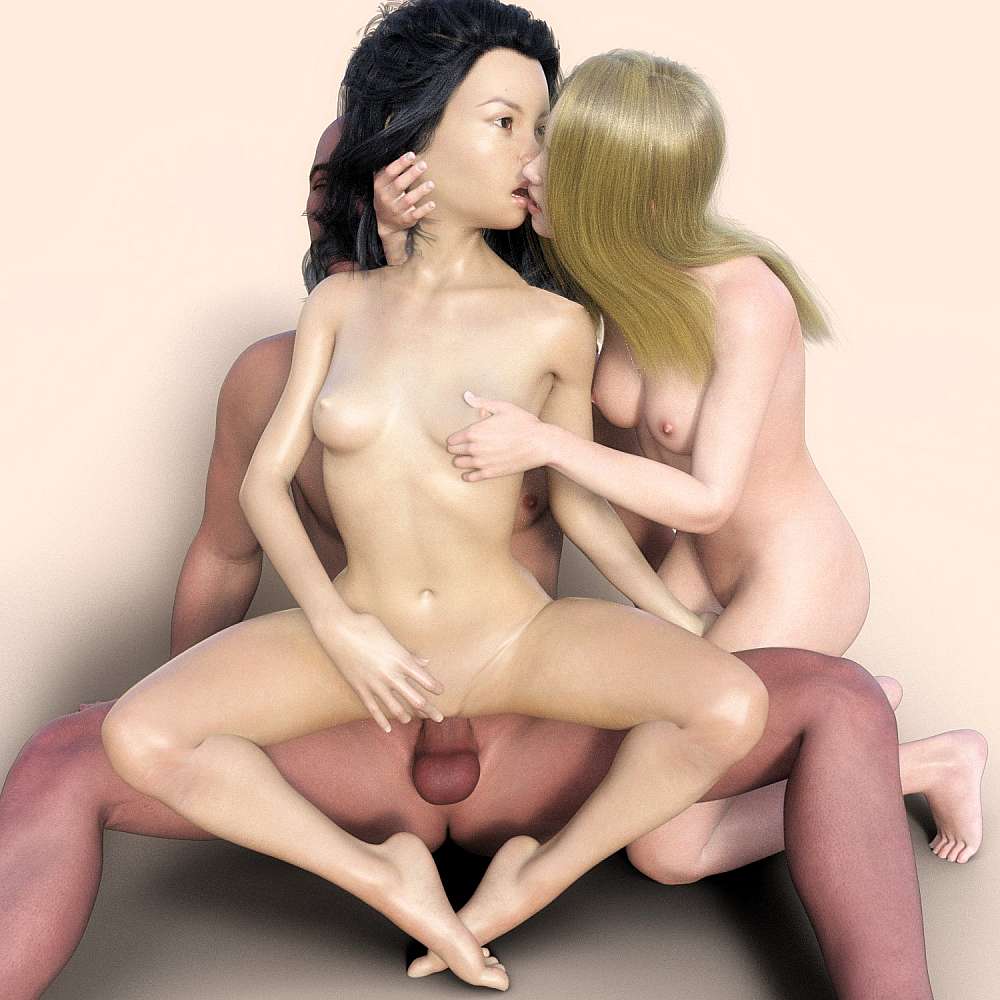 They all lay back on the rug.
"Okay, now what?" Clare asked a few minutes later.
"I think I should sit on Nathan's face," Jasmine said. "Give him a taste of his own medicine, so to speak. And you should see if you can get his dick into you."
"Sounds good to me," Clare said. She spent a minute sucking Nathan's dick until it was firm enough that she could mount him.
Astride Nathan, the girls kissed. They kissed and touched until together they came.
Jasmine eased herself off Nathan's face. "I think I could taste some of myself when we were kissing," she said.
"Me too," Clare said. "I mean I could taste you when I sucked his dick."
"You know what she tastes like?" Nathan asked.
They gave Nathan a look that said, "How silly!"
"I guess that's it then," Clare said, starting to lift herself off Nathan's cock.
"Wait, don't I get to come again?" he asked.
"Maybe next time," Clare said.
Clare and Jasmine laughed.
"So how many more rehearsals do we need until..." Clare asked.
"Five or ten should do it," Jasmine said.
They laughed.
That night Jasmine got another call from Nathan. "I forgot to offer you the potato chips I'd bought."
"Oh, that's okay," Jasmine said. "Maybe save them for the next time."
There is more of this story...
The source of this story is Storiesonline